Do you have a ton of leftovers from hosting a big holiday meal? These Thanksgiving leftover wraps combine all of our favorite leftovers in one convenient hand-held meal. You can also enjoy these any time of year of course and enjoy the comforting flavors of Thanksgiving foods.
Get more recipes like this in the Workweek Lunch Meal Prep Program with access to our meal planning tools, grocery list generator, and more. Start a free trial today!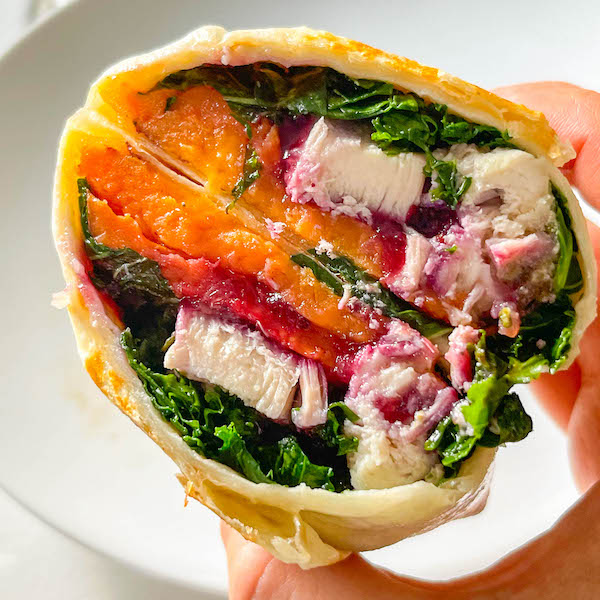 Customizing these Thanksgiving Leftover Wraps:
These wraps are of course designed with leftovers in mind! They are actually inspired by a sandwich that is available year-round from a local sandwich chain that features sliced turkey, Havarti, cranberry sauce, lettuce, tomato, and spicy mayo on crusty bread. Our version was made to eat warm (so it can be frozen!) and to use up leftovers you may have from a holiday meal.
Leftovers that would be great in this wrap:
Instead of turkey, use chicken, tofu, ham, or your favorite vegetarian or vegan roast! We love the Vegetarian Plus brand Vegan Turkey Loaf.
Instead of sweet potatoes, use up your leftover candied yams, sweet potato casserole, or mashed potatoes!
Swap cranberry sauce for leftover gravy (or do both) if you want the wrap to be a bit more savory.
Leave out the kale and use up any leftover green beans, spinach, or roasted veggies.
Since the wraps already have cranberry sauce and a spicy mayo you want to keep the other options in there on the dry side! Leave out sides such as creamed corn or green bean casserole.
Related: Reuse Thanksgiving Leftovers: 30 Meals To Enjoy After Your Holiday Feast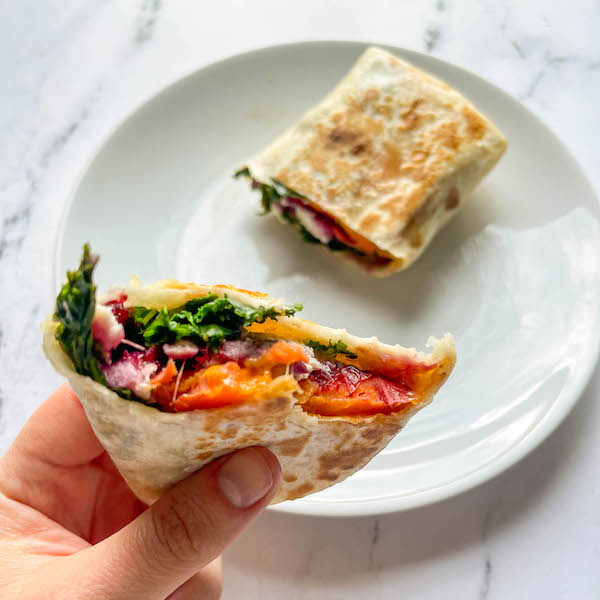 How long are Thanksgiving leftovers good for?
Most of the dishes we typically eat on Thanksgiving will last about four to five days when refrigerated! Make sure to put the food in the fridge within two hours of preparation.
Related: How Long Are Leftovers Good For? (And What to Do With Them)
Check out the video below for two more easy, delicious recipes you can make with your leftovers!
Here are some other creative ways to use up Thanksgiving leftovers!
Related: Best Tips For Intuitive Eating During The Holidays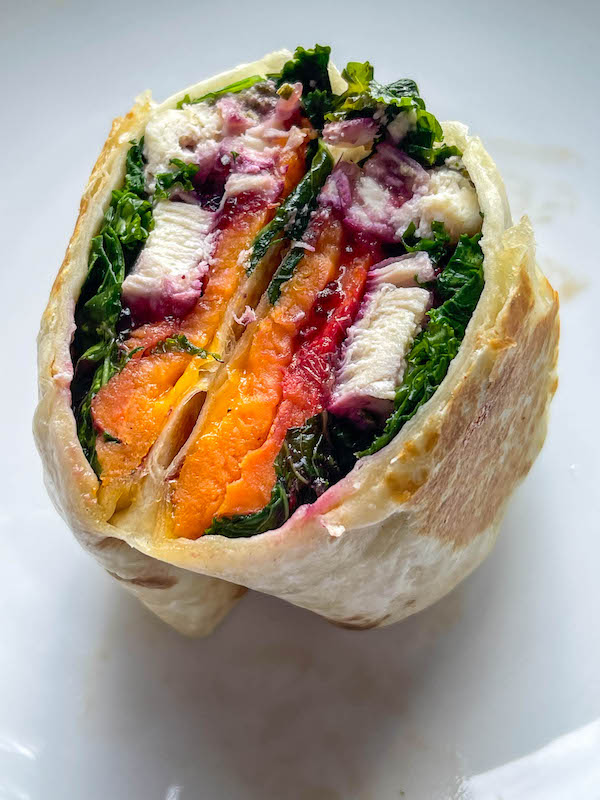 Storing these Thanksgiving Leftover Wraps
These wraps will last in the fridge for up to 5 days. As always you can store the ingredients separately and wrap them before serving to keep them as fresh as possible. Wrap day of if you are using gluten-free tortillas.
You can freeze these wraps for up to 3 months and defrost them overnight in the fridge. To heat, you can microwave the wraps for 1-2 minutes then finish off in the toaster oven to crisp up the outside, or reheat them on the stove!
Related: 13 Easy Holiday Recipes To Bring To Any Gathering
Don't forget to try our other delicious free recipes!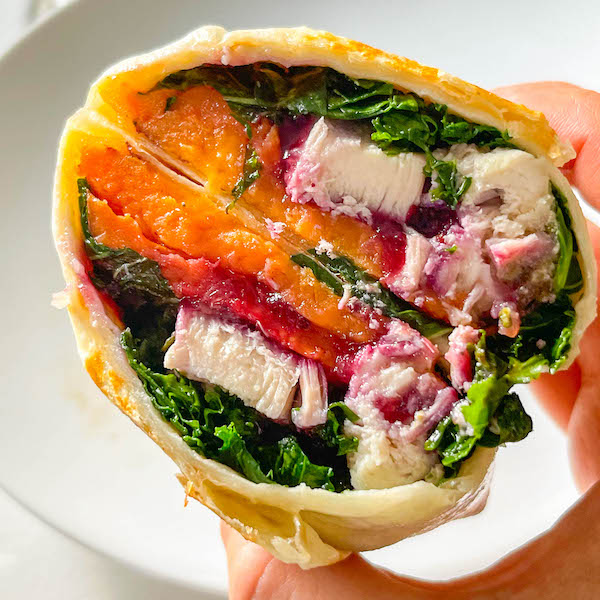 Thanksgiving Leftover Wraps
Ingredients
For the sweet potatoes
1

sweet potato

medium, sliced into wedges

1

TBSP

olive oil

salt and pepper

1/2

tsp

cinnamon
For the turkey
16

oz

turkey breast

sub chicken breast

1

TBSP

olive oil

1/2

tsp

salt

1/4

tsp

pepper

1

tsp

sage

1/2

tsp

thyme

1

tsp

rosemary

plus 1 more teaspoon if using fresh
For the cranberry sauce
1.5

cup

cranberries

whole, fresh or frozen

1/3

cup

granulated sugar

1/4

tsp

salt

1/2

cup

water

2

tsp

lemon juice
For everything else
3

cup

kale

roughly chopped

1

TBSP

olive oil

salt and pepper

3

TBSP

mayo

1

tsp

sriracha

plus more to taste

1

cup

shredded cheddar cheese

sub shredded cheese of your choice

4

tortillas

large, sub gluten-free
Instructions
Preheat your oven to 425 F (225 C).

Skip this step if you are using leftover turkey!

To a small/medium baking dish, Add the turkey, half of the olive oil, salt, pepper, sage, thyme and rosemary. Use your hands or a spoon to toss the turkey well in the seasonings. Cover with foil and bake for 20-25 minutes, then uncovered for 5-10 minutes, until the chicken is firm to the touch. If using a meat thermometer, the internal temp should be 165 F (74 C). When it's done cooking, set the chicken aside to rest/cool.

Add the sweet potatoes, remaining oil, salt, pepper, and cinnamon to a sheet pan. Use your hands to toss the sweet potatoes in olive oil and seasonings. Bake for 25-30 minutes, until the sweet potatoes are soft. Flipping halfway is optional.

While the sweet potato and turkey bake, make the cranberries (skip this step if you have leftover cranberry sauce). Add the water and sugar to a pot over medium heat. Once the water is simmering, add the cranberries with a pinch of salt. Let the cranberries cook uncovered over low heat, bubbling gently until the water has evaporated, and the cranberries have burst. Turn off the heat and stir in the lemon juice. Set the cranberry sauce aside to cool (it will thicken even more when taken off the heat).

For the kale (skip this step if using spinach): add the kale to a large bowl with olive oil and a pinch of salt. Use your hands to "massage" the olive oil and salt into the kale. This softens it so it's easier to eat. The kale should be bright green in color when ready.

Chop/slice the cooked turkey.

Make the sriracha mayo. In a small bowl, mix the sriracha and mayo together with a fork. Set aside.

Once all of the ingredients have cooled, assemble the wraps if using regular (not GF) wraps! You should get 4 large wraps and you may have extra turkey leftover. Spread 1/4 of the sriracha mayo on the wrap, followed by 1/4 of the kale, 1/4 of the turkey, 1/4 of the cranberry sauce, 1/4 of the sweet potato wedges, followed by 1/4 of the cheese. Wrap and roll then set aside and repeat. If you need help wrapping, I recommend watching a video or two before doing it – you'll get the hang of it! If using GF wraps: keep ingredients stored in containers until wrapping.

Optional step: You can "seal" the wraps by heating up a nonstick pan, greasing it with a little cooking spray, and placing your wraps seam-side-down for a few minutes. This helps them stay together in the fridge. You can also do this right before you eat it (which is what I did).

Store wraps in a large zip-top bag or container for up to four days.
DID YOU MAKE THIS RECIPE?
Please leave a comment below on the blog or share a photo with us and tag @workweeklunch! Can't wait to see what you made!