Snack lunch boxes are perfect for when you're feeling bored with your normal go-to's and want to switch things up. Add your favorite fruits, veggies, nuts, cheeses, and sweet treats into your lunch box and snack on them during the day for some much-needed variety. We like to add something substantial too, which is why this box includes a delicious pinwheel with garlic aioli!
You know I love a good wrap…but pinwheels are the slightly more fun sibling to the wrap. Just as handheld, just as easy to assemble (honestly easier because you get to leave the ends open! No more split tortilla butts), and just a little more whimsical. Plus, pinwheels seem a little more "snacky" to add to our bento snack lunch!
Get more recipes like this in the Workweek Lunch Meal Prep Program with access to our meal planning tools, grocery list generator, and more. Start a free trial today! We currently have seven different snack lunch box recipes in the program!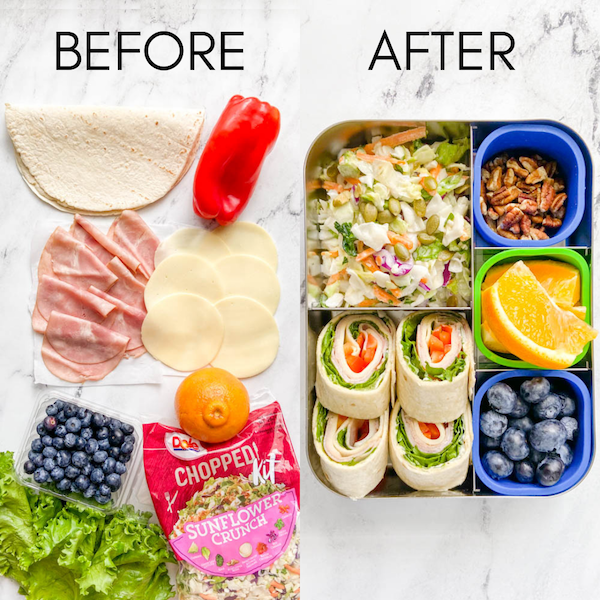 Ways to customize this snack lunch
Use whatever sides you like! Use your favorite fruits, chips, trail mix, granola…all snacks are fair game!
If you choose salad as one of your sides, keep the dressing and toppings on the side so your salad isn't sad the next day.
If you don't want to use coleslaw mix, use a pre-made salad kit. Taylor Farms is my favorite.
Use whatever meats and cheeses you prefer in the pinwheels
DON'T SKIP THE SAUCE!! It creates a barrier so your meat/veg doesn't make the tortilla too soggy, and it's a glue to keep the pinwheel sealed. But feel free to use something other than aioli; honey mustard, plain mayo or mustard, barbecue sauce (with deli chicken and cheddar, yum), or even cream cheese.
Related: Meal Prep Sandwiches and Wraps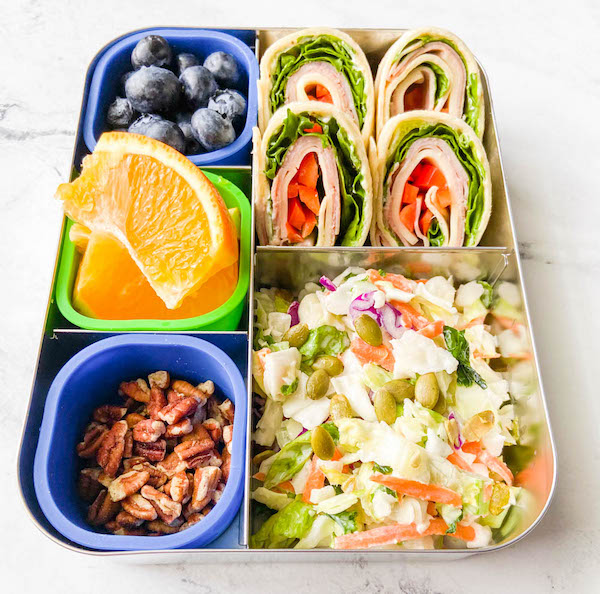 Tortilla suggestions
If you like regular flour tortillas (that's what I use), these wraps should not get too soggy if you choose to wrap them for meal prepping. My favorite tortilla brand is Mission! But if you're using whole wheat or gluten-free wraps, it's important to wrap these up right before eating. Gluten-free and whole wheat wraps don't hold as well overnight and are more difficult to fold up. If going this route, store the wrap fillings in individual containers, then wrap them before you eat!
Speaking of GF tortillas, I tried 6 different gluten-free tortillas and rated them all! Watch to see how this experiment went down and which one came out on top.
What type of containers are good for snack lunches?
You can use any containers you already have at home to create a perfect snack lunch. But if you want to step up your game, here are the ones I recommend.
Related: 25 Easy Teacher Lunch Ideas To Meal Prep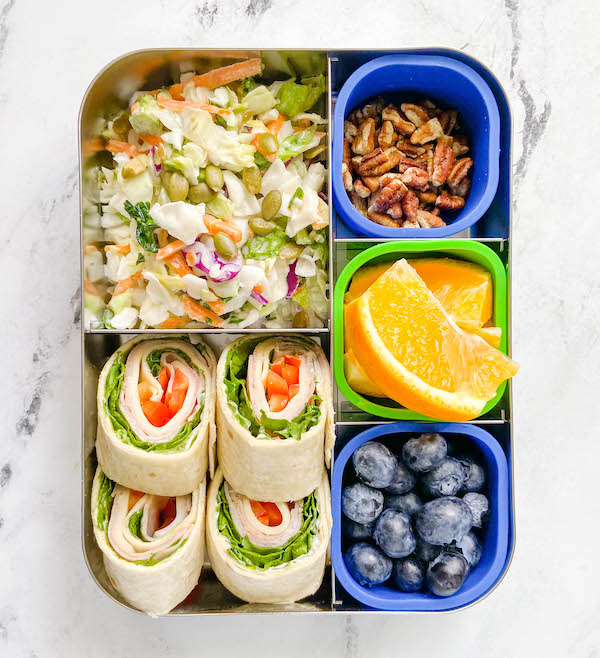 How to store this snack lunch
This meal will last 3-4 days in the refrigerator, and it is not freezer-friendly! They are good cold or at room temperature. I don't recommend reheating these pinwheels. Happy prepping!
Other recipes you'll love: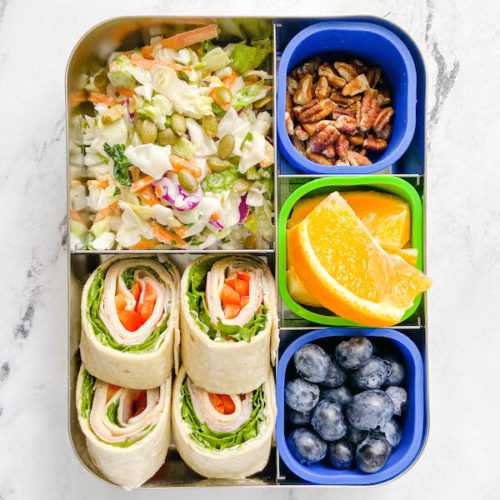 Pinwheel Snack Lunch
Ingredients
For the garlic aioli
3

TBSP

mayo

1

tsp

garlic powder

plus more to taste

1

tsp

lemon juice

plus more to taste

salt and pepper to taste
For the pinwheels
2

large tortillas

4

leaves

of lettuce

I used green leaf

6

oz

sliced deli meat

3 slices each, I used ham

4

oz

sliced cheese

2 slices each, I used provolone

1

red bell pepper

cut into strips, sub crunchy vegetable
For the sides
1

package of coleslaw or premade salad

1/2

cup

blueberries

1

orange

peeled and sectioned

1

cup

potato chips

sub pretzels or other crunchy snacks

1/4

cup

nuts

sub seeds or trail mix
Instructions
Make the aioli. Combine the mayo, garlic powder, lemon juice, salt, and pepper in a small bowl. Mix until it is fully combined and set aside.

Assemble the pinwheels. Spread half of the aioli on a large tortilla all the way to the edges. Lay half of your lettuce down near the middle of the tortilla. Top with half of the meat, half of the cheese, and half of the bell pepper, keeping everything in a straight line. Start tightly rolling up your pinwheel, and try to keep even tightness across the full length of the roll (otherwise your ends will be loose!). If you get to the final edge and there isn't aioli there, dab a few spots to glue it together. Slice into 2-inch (5 cm) thick slices, using toothpicks to secure as needed (mine didn't need this).

Assemble the boxes: If you are using a divided container, put the pinwheels in the largest compartment. Add the salad, chips, and fruit in smaller sections. Store any dips or dressings in a lidded container separately. That's it!
DID YOU MAKE THIS RECIPE?
Please leave a comment below on the blog or share a photo with us and tag @workweeklunch! Can't wait to see what you made!